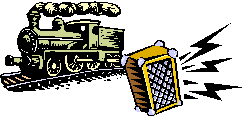 RAS Model Railway Sound Simulation
RAS Sound Simulators are analogue systems designed to simulate locomotive sounds and synchronise them with the model locomotive type, speed and acceleration. They differ from Digital Command Control (DCC) sound systems in the following ways:
One system provides sound for all locomotives resulting in no per-locomotive cost
A combination of under-baseboard and on-board speakers can be accommodated, giving greater volume and deeper tones from larger speakers, whilst providing localisation of sound with on-board speakers.
By plugging into the track supply, a locomotive on that section of track will have sound simulated. Hence one system could be sufficient for a whole station or cab-control block, or more.
Unless on-board sound is required, the locomotives do not need modification.
Sounds are simulated, not pre-recorded and played back. Realism is created using methods such as reverberation.
Distinction between locomotive sounds is possible using a special Remote Control Unit to pre-set up to 12 locomotive sounds.
Other background sounds such as bird-song, a fireman shovelling coal, etc can be mixed in using an auxilliary input from a tape recorder.
The sound simulator that you have heard is a prototype system and subsequently 12 systems were produced, custom-built and installed for particular layouts with specific requirements.  As a rough guide of available options, the following brochure is available for download.
Download Brochure (192 Kbytes)
Firm quotations will only be supplied following discussion of a specific customer's requirements. However, the start-up cost is likely to be around £190 for a 'basic' steam-only system, without reverberation or pre-set locomotive settings. A steam/diesel combined system will cost £250. A reverberation unit option (for a realistic 'echo' effect) is likely to cost an additional £60, with the per-locomotive Remote Control Unit adding an additional £140 for 6 locomotives or £180 for 12 locomotives. On-board sound will add another £80 and a 7W mono amplifier (for use of the reverberation unit with passive speakers) approximately £45. The customer will also need to purchase speakers.

Main Control Unit (above) containing all possible options, and the per-locomotive Remote Control Unit (below).


Links
© Copyright Robert A Smith, 2005-7